Jim Kellner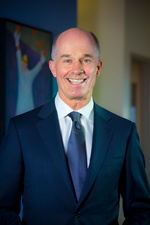 Dr. Jim Kellner is a pediatrician and subspecialist in pediatric infectious diseases. Currently, he is Professor and Head of the Department of Pediatrics at the University of Calgary and Alberta Health Services – Calgary Zone. The Department has nearly 300 clinical and academic faculty serving children in Calgary and southern Alberta. He is also Professor in the Department of Community Health Sciences and the Department of Microbiology, Immunology and Infectious Diseases.
His research interests are in the field of vaccine preventable infections including, in particular, Streptococcus pneumoniae, Neisseria meningiditis and influenza. He founded two research groups: Calgary Streptococcus pneumoniae Epidemiology Research (CASPER) and Alberta Children's Hospital Infections, Epidemiology and Vaccine Evaluation (ACHIEVE). He is a member of the pneumococcal working group for the Canadian Immunization Monitoring Program, Active (IMPACT).
He is Chair of the Alberta Advisory Committee on Immunization that advises the government of Alberta and Alberta Health Services. He serves on the pneumococcal working group of the Canadian National Advisory Committee for Immunizations (NACI) and is a member of the WHO Serotype Replacement Technical Advisory Group.
Email: kellner@ucalgary.ca