Special Immunization Clinic (SIC) Network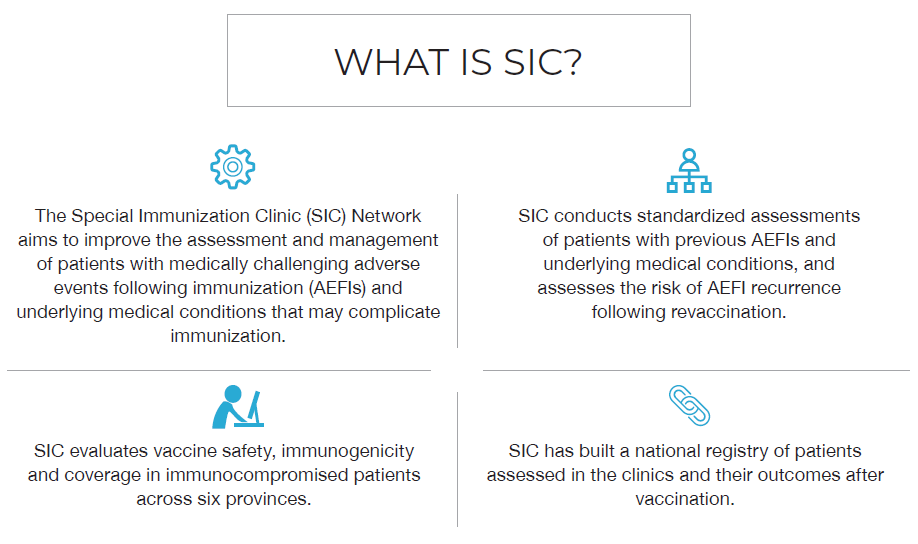 The Special Immunization Clinic (SIC) Network was established in 2013 by infectious disease specialists and allergists to improve immunization practices for patients who had experienced adverse events following immunization and those who have medical conditions that may affect their response to immunizations. SIC physicians conduct standard patient assessments, and evaluate vaccine safety in patients with previous adverse events.
In response to the COVID-19 pandemic, the SIC network was awarded funding to expand its clinics to more sites and provinces in order to evaluate patients with adverse events following COVID-19 vaccination across Canada. SIC investigators are also collaborating with networks on studies to evaluate COVID-19 vaccines in patients with various immunocompromising conditions.
If you are a physician who would like to refer a patient to the SIC with an adverse event following COVID-19 vaccination or another vaccine, click here for more information.
In addition to clinical care, The SIC Network also conducts four multi-center research studies:
Optimizing the clinical management of patients with contraindication to vaccination and those with adverse events following immunization (AEFI) is looking to find the causality of AEFIs and the risk of recurrence upon revaccination for any vaccination, including COVID-19. Enrollment is ongoing through the clinic.
Optimizing varicella immunization in children and youth with solid organ transplants (SOT) is studying how well varicella vaccines work and how safe they are in pediatric solid organ transplant recipients. The study is also assessing barriers and acceptability of implementing live varicella vaccination for SOT recipients among health care providers and parents of SOT recipients. Enrollment is expected to complete Dec 2021.
Safety of rotavirus vaccination in infants born to women on biologic immunomodulators during pregnancy is evaluating immunologic markers of infants with in utero exposure to biologics and following them up after vaccination in order to determine the safety of giving rotavirus vaccination. A manuscript of our preliminary results is in preparation.
Immunization practices in children with primary immune deficiencies (PID) aims to describe vaccination practices of immunologists, pediatricians and infectious disease specialists caring for children with PID through a survey and a review of medical charts of children diagnosed with PID before age seven.
The SIC has many sites across Canada and continues to grow. Below is a list of current SIC sites and collaborators.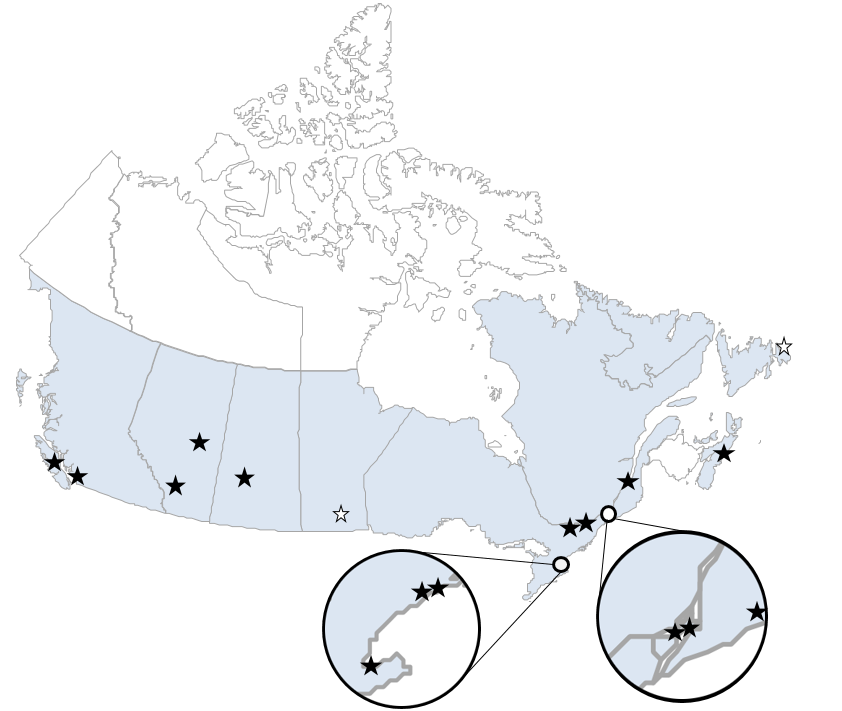 Network Lead:
Co-Investigators:
Scott Halperin, IWK Health
Anthony Otley, IWK Health
James Tee, IWK Health
Shelly McNeil, Nova Scotia Health
Gina Lacuesta, Nova Scotia Health
Shelley Deeks, Nova Scotia Department of Health and Wellness
Andrew O'Keefe, Memorial University of Newfoundland
Gaston de Serres, Institut national de santé publique du Québec
Jean Philippe Drolet, CHU Laval
Francois Boucher, CHU Laval
Alex Carignan, CHU Sherbrooke
Hugo Chapdelaine, Institut de recherches cliniques de Montréal
Emilia Liana Falcone, Institut de recherches cliniques de Montréal
Francisco Noya, McGill University Health Centre
Soren Gantt, CHU Sainte-Justine
Caroline Quach, CHU Sainte-Justine
Bruce Tapiéro, CHU Sainte-Justine
Anne Des Roches, CHU Sainte-Justine
Chantal Buteau, CHU Sainte-Justine
Anne Pham-Huy, Children's Hospital of Eastern Ontario
Arianne Buchan, The Ottawa Hospital
Juthaporn Cowan, The Ottawa Hospital
Shaun Morris, Hospital for Sick Children
Julia Upton, Hospital for Sick Children
Vicky Ng, Hospital for Sick Children
Chia Wei Toeh, Hospital for Sick Children
Upton Allen, Hospital for Sick Children
Christine Song, St. Michael's Hospital
Jeffrey Pernica, McMaster Children's Hospital
Zainab Abdurrahman, McMaster's Children's Hospital
Sarah Wilson, Public Health Ontario
Colin Barber, Health Sciences Centre Winnipeg
Karver Zaborniak, Health Sciences Centre Winnipeg
Chrystyna Kalicinsky, Health Sciences Centre Winnipeg
Tamar Rubin, Children's Hospital of Winnipeg
Lana Rosenfeld, Health Science Centre Winnipeg
Alberto Severini, National Microbiology Laboratory
Athena McConnell, University of Saskatchewan
Catherine Burton, Stollery Children's Hospital
Sneha Suresh, Stollery Children's Hospital
Wendy Vaudry,Stollery Children's Hospital
Susan Gilmour, Stollery Children's Hospital
Grazia Salvo, Alberta Health Services
Cora Constantinescu, Alberta Children's Hospital
Manish Sadarangani, BC Children's Hospital
Julie Bettinger, BC Children's Hospital
Tom Blydt-Hansen, BC Children's Hospital
Kyla Hildebrand, BC Children's Hospital