Provincial Collaborative Network (PCN)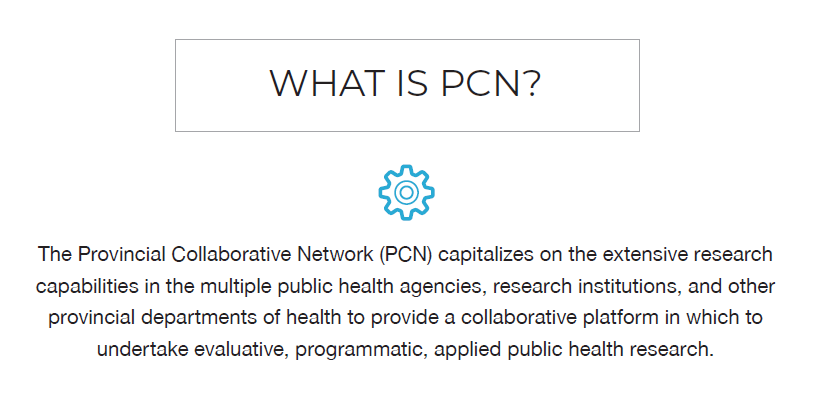 The CIRN Provincial Collaborative Network (PCN) brings together leading researchers from multiple provincial governments, public health agencies, and research institutes to conduct a wide range of public health-relevant research and evaluation.
The PCN studies characteristically do not involve collecting information directly from people or clinical studies, but instead, typically bring together a range of existing types of large-scale data to answer important questions very efficiently and effectively. These studies increase the evidence base to inform immunization strategies and programs in Canada and beyond.
In 2017-18, PCN completed several studies, resulting in four presentations and three papers published in leading scientific journals. The publications included studies that catalogued methods used to assess vaccine coverage in Canada, validated the use of diagnostic codes to identify cases of pertussis (whooping cough), and outlined a protocol to examine immunological protection from pertussis transmission in household contacts.
The five PCN studies that are currently in progress involve multiple provinces, vaccines, and research methodologies. One nearly completed study is examining vaccine safety and coverage in children with epilepsy using health administrative databases. Another study is assessing under-reporting and evaluating the effectiveness of pertussis vaccines in multiple provinces using a combination of laboratory, health administrative, and public health reportable disease surveillance databases. A pair of studies are using linked laboratory and health administrative data to examine some recent controversial aspects regarding the effectiveness of influenza vaccines, with one studying the impact of repeated immunization on influenza vaccine effectiveness in young children and another determining whether the effectiveness of influenza immunization wanes over the course of an influenza season. Finally, the ENGAGE-HPV study, which is focused on preventing human papillomavirus (HPV) for gay, bisexual, and other men who have sex with men in Toronto, Vancouver, and Montreal, will combine methods from epidemiology, mathematical modeling, and health economics.
We have established strong partnerships between researchers and policy-makers. For example, a CIRN funded trainee built on these relationships is leading a study of how to strengthen the way that research influences immunization policy in order to maximize the impact of immunization programs in Canada. This study leveraged CIRN support, as well as the Canadian Institutes of Health Research [CIHR], Public Health Agency of Canada, Association of Medical Microbiology and Infectious Disease Canada, Canadian Association for Immunization Research and Evaluation, and Public Health Ontario.In 2018/19, PCN aims to complete most of its existing studies and will develop plans for new studies for year three of CIRN by seeking increased linkages of partner organizations, collaborating investigators, and databases. For example, PCN is closely connected with the Institute for Clinical Evaluative Sciences in Ontario, which is partnering with similar organizations in several provinces to submit an application to CIHR for the Strategy for Patient-Oriented Research (SPOR) National Data Platform. The objective of this data platform is to create efficiencies for accessing data for multi-jurisdictional studies, which will be of great interest and benefit to PCN and other CIRN networks once ready.

Co-Investigators:
Shelly Bolotin, Public Health Ontario
Marc Brisson, Laval University
Paula Brna, Dalhousie University
Elizabeth Brodkin, Fraser Health Authority
Sarah Buchan, University of Toronto
Ann Burchell, St. Michael's Hospital
Aaron Campigotto, London Health Sciences Center
Michael Campitelli, Institute for Clinical Evaluative Science
Cynthia Chen, Public Health Ontario
Hannah Chung, Institute for Clinical Evaluative Sciences
Joe Cox, McGill University Health Centre
Francois Coutlée, Laboratoire de Virologie Moléculaire, CRCHUM
Meena Dawar, Vancouver Costal Health Authority/University of British Columbia
Alexandra de Pokomandy, McGill University Health Centre
Shelley Deeks, Public Health Ontario
Marc Dionne, Centre de recherche du CHU de Québec-Université Laval
Jelena Djordjevic, McGill University
Simon Dobson, University of British Columbia
Steve Drews, Alberta ProvLab
Eduardo Franco, McGill University Health Centre
Sandra Gardner, University of Toronto
Vladimir Gilca, Centre de recherche du CHU de Québec-Université Laval Institut national de santé publique du Québec
Troy Grennan, BC Centre for Disease Control
Ramandip Grewal, St. Michael's Hospital
Dane Griffiths, Gay Men's Sexual Health Alliance (Toronto)
Jonathan Gubbay, Public Health Ontario
Trevor Hart, Ryerson University
Steven Hawken, University of Ottawa/ Institute for Clinical Evaluative Sciences
Ashley Holly, Alberta Health
Wanrudee Isaranuwatchai, St. Michael's Hospital
Frances Jamieson, Public Health Ontario
Caitlin Johnson, Public Health Ontario
Jody Jollimore, Health Initiative for Men (Vancouver)
Tim Karnauchow, University of Ottawa
Kevin Katz, North York General Hospital
James Kellner, University of Calgary
Erich Kliewer, BC Cancer Agency
Mel Krajden, BC Centre for Disease Control
George Zahariadis, Public Health Laboratory, Newfoundland & Labrador
Gilles Lambert, Ryerson University
Lennon Li, Public Health Ontario
Mark Loeb, McMaster University
Salah Mahmud, University of Manitoba
Alex Marchand-Austin, Public Health Ontario
Marie-Helene Mayrand, Institut national de santé publique du Québec, Centre de recherche du Centre hospitalier de l'Université de Montréal (CRCHUM)
Allison McGeer, Sinai Health System and University Health Network
Dayre McNally, Children's Hospital of Eastern Ontario
Shelly McNeil, Dalhousie University
Dianne Miller, BC Cancer Agency
Deborah Money, University of British Columbia
David Moore, BC Centre for Excellence in HIV/AIDS
James Murray, Ontario Ministry of Health and Long Term Care
Monika Naus, University of British Columbia, BC Center for Disease Control
Gina Ogilvie, University of British Columbia/BC-Center for Disease Control
Susan Richardson, Hospital for Sick Children
David Richardson, William Osler Health System
Margaret Russell, University of Calgary
Chantal Sauvageau, Centre de recherche du CHU de Québec-Université Laval Institut national de santé publique du Québec
Kimberley Simmonds, Alberta Health
Andrew Simor, Sunnybrook Health Sciences Centre
Joel Singer, University of British Columbia
Marek Smieja, St. Joseph's Healthcare Hamilton
Bruce Smith, Dalhousie University
Mark Thompson, US Centers for Disease Control and Prevention
Len Tooley, St. Michael's Hospital
Karina Top, Dalhousie University
Dirk van Niekerk, BC Cancer Agency
Bryna Warshawsky, Public Health Ontario
Krista Wilkinson, University of Manitoba
Kumanan Wilson, Ottawa Hospital Research Institute/ Institute for Clinical Evaluative Sciences
Sarah Wilson, Public Health Ontario